MGS Assists with Approvals for New Mixed-Use Building on Halstead Avenue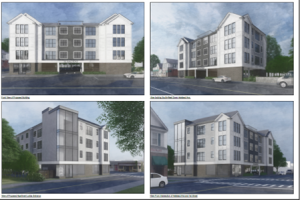 A nearly 100-year-old retail and apartment building at 132 Halstead Avenue will be replaced by a new, four-story mixed-use building that will add green space to the property.
Steven Wrabel, partner with the White Plains law firm McCullough, Goldberger & Staudt, LLP, was integral in helping owner Maynooth Holdings LLC obtain approvals from the Harrison Zoning and Planning Boards to construct a new building on the property at the corner of Halstead Avenue and First Street. McCullough Goldberger were able to aid the property owner in obtaining Site Plan approval from the Planning Board as well as multiple area variances from the Zoning Board of Appeals to accommodate the new development.
Under the development plan, the antiquated two-story building currently on the site will be demolished for the development of a new, four-story mixed-use building. The new development will include commercial space and parking on the first floor, and 12 luxury apartments with rooftop recreation space above. The redevelopment will improve environmental conditions as well, by reducing impervious coverage, utilizing green building elements, installing new stormwater mitigation improvements, and planting new landscaping around the site.
Wrabel said the project would be a significant improvement from the previous liquor store and outdated apartments. "This is a terrific example of smart downtown redevelopment. This project will be a great addition to the neighborhood."