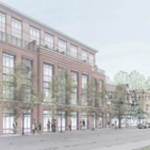 Project Description
(Transit-Oriented Mixed Use Development)
As a result of land use approvals secured by MGS, the Village of Pelham approved a mixed-use transit-oriented development near the Pelham Metro-North Station.
The project is by MatriArch Development will feature 63 rental units and more than 7,000 square feet of ground-floor commercial/retail space. 
Prior results do not guarantee a similar outcome.