James Staudt is Honored by the Westchester Jewish Council
WHITE PLAINS, N.Y. (May 11, 2022) – Larchmont resident James Staudt, a partner in the law firm of McCullough, Goldberger & Staudt, LLP (MGS) in White Plains, was honored on May 10 at the 27th Annual Julian Y. Bernstein Awards. 
Each spring, the Westchester Jewish Council honors extraordinary volunteer leaders from among the member organizations of the Council with the Julian Y. Bernstein Distinguished Service Award (DSA). Julian Y. Bernstein was a Council board member and visionary communal leader.
Staudt is being honored for his work with United Hebrew of New Rochelle.  He served as Chairman of the Board at United Hebrew until 2021. He continues his service on the Board as Co-Senior chair. He has been a longtime board member and has provided legal counsel to the organization. He helped provide leadership to ensure United Hebrew remained a vital organization true to its mission of serving the needs of seniors, particularly through the initial phases of the COVID-19 pandemic.
"I'm truly honored to receive this award from The Westchester Jewish Council,'' said Staudt. "Julian Bernstein was a much-admired leader who was widely recognized for his dedication to the Jewish community. I also congratulate all my fellow honorees on this wonderful achievement.''
Staudt was drawn to serving on United Hebrew's board after providing legal services to the organization.
Staudt has practiced municipal land use and real estate law throughout eastern New York including representation of lenders in complex building loan transactions and representation of private and public entities in land use matters. He has represented religious institutions and municipalities in RLUIPA actions and has regularly lectured on RLUIPA and other land use topics. He was General Counsel to the former Sound Federal Savings and a member of their Board of Directors.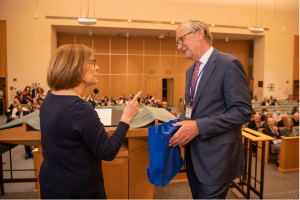 Staudt has been an active participant in the legal community. He is a past president of the Westchester County Bar Association Foundation, a past member of the Westchester County Bar Association Attorney Client Economic Dispute Committee, and former Co-Chair of the Westchester County Bar, Real Property Section. He is admitted to the New York State Bar; U.S. District Court, Southern and Eastern Districts of New York.  Staudt received his J.D. from Villanova University School of Law and a B.A., magna cum laude, from Boston College.