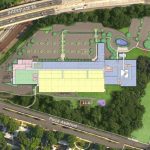 Project Description
McCullough, Goldberger & Staudt, LLP, was integral in helping owner Midland Rye LLC obtain local land use approvals from the City of Rye zoning and planning commissions to allow for the new use of the property at 601 Midland Avenue.
Located on the corner of Midland and Peck Avenues, the property was formerly used as a warehouse and distribution center for Avon and was later converted into Avon's data center and accompanying office space.
The building will now serve as office and laboratory space for the New York Blood Center, a supplier of life-saving transfusion products to hospitals in the greater New York metropolitan region. The firm helped Midland Rye LLC to obtain a zoning amendment to broaden permitted uses on the site, followed by Site Plan and Special Permit approvals from the Planning Commission.