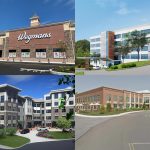 Project Description
The law firm of McCullough, Goldberger & Staudt, LLP ("MGS") has received numerous accolades for its involvement in the repurposing of the I-287 Corridor in the Town/Village of Harrison, NY. Known as the "Teardrop" due to its shape, the area bounded by I-287, the Hutchinson River Parkway and I-684 has been transformed in recent years. Six obsolete 1970s era office buildings and the former Gannett Westchester Newspapers offices/distribution facility have been converted or are in the process of being converted into a vibrant mixed-use community with more than 900 units of multi-family rental housing (including 65 units of workforce housing) , as well as new retail and health services such as Life Time Fitness, Wegmans Supermarket and Montefiore Medical.
The Town/Village of Harrison recently received an award from the Westchester Municipal Planning Federation for this innovative rezoning initiative.
MGS has been integral in obtaining approvals including zoning text amendments, special exception use permits and site plan approvals from the Town/Village of Harrison for the following:
The Life Time Fitness facility on Westchester Park Drive, consisting of an approximately 209,000 square foot state-of-the-art fitness facility, at the site of the former Gannett building.
Carraway The Toll Brothers/Normandy Real Estate Partners transformation of two obsolete office buildings into a multi-family residential development with 421 rental apartments, including 42 workforce units.
Wegmans Food Markets, a Rochester based grocery store chain, opening a 125,000 square-foot, stand-alone store on a 20-acre site (formerly occupied by 3 obsolete office buildings) on Corporate Park Drive in Harrison adjacent to the new Carraway residential development.
Alexan Harrison The project consists of two 5-story buildings with 450 rental apartments and retail space on the 10.6-acre site in Harrison, on the site of a former approximately 160,000 square foot office building.
Simone Development Companies and Montefiore Health System renovation of the now vacant four-story office building at 104 Corporate Park Drive in Harrison into a 115,000-square-foot facility that will be utilized as a new outpatient medical facility.